FAQ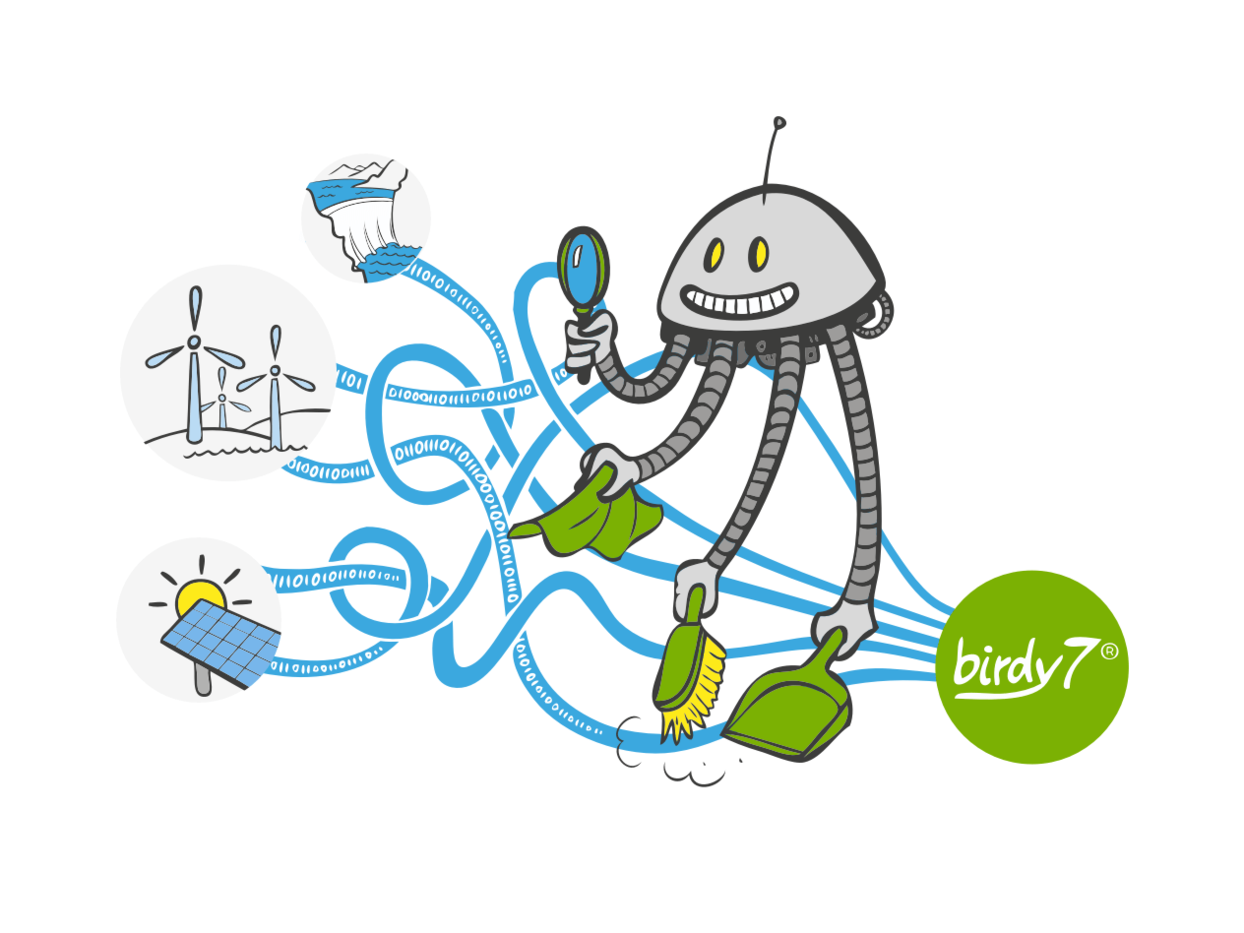 FAQ
Questions we hear often
Some questions keep on popping up. Here's an overview of our answers. If you cannot find your issue here, do not hesitate to contact us.
Why does birdy7 use OLAP for its BI platform?
OLAP technology enables one to persist data in a highly-compressed format. Its multidimensional nature results in very fast data accumulation and calculations based on the underlying data set. OLAP means faster flow of information.
What is the birdy7 CUBE?
The birdy7 CUBE is our data gateway. It normalizes and compresses the data losslessly up to 18 times smaller than the original, and securely dispatches the data, even if the network connection is temporarily unavailable. The birdy7 CUBE consists of a small industrial box PC that can be mounted inside a hardware/server rack, or placed freestanding on a desk. It just needs to be connected to a power outlet and a live network connection.
We operate a server farm that hosts all of our data. Do we still need birdy7 CUBE?
The birdy7 CUBE is responsible for data normalization, and is therefore a default requirement for the proper functionality of the birdy7 platform. It can be located in the power plant (close to the SCADA system), or in your server farm. Which variant of the birdy7 CUBE is installed, depends on where in your network the data is available with sufficient resolution.
How secure is our data in the birdy7 system?
We take this subject very seriously on a number of levels. Firstly, we are able to restrict access to your data so that no unqualified users can hack in. You furthermore have the option to have our technology implemented redundantly so that data loss is virtually impossible. Thirdly, you can also deploy your birdy7 Cloud in your in-house infrastructure to all but eliminate access from the outside world. Keep on using your existing firewalls and VPNs.
Speak to us to learn more.
What methods does birdy7 use to securely store and disseminate our data?
We always recommend a redundant implementation of our system components to prevent data loss. This is, of course, an economic decision. If you already have your own IT infrastructure, you can continue to use it once we have checked and verified that it conforms to our data-security requirements.
All network traffic is protected with TLS 1.2 encryption - using strong cipher suites only, to prevent unauthorized users from gaining access to your data.
Are the popular cloud providers (Amazon®, Microsoft®, Google® etc.) compatible with birdy7?
The birdy7 system runs inside a container system that can be installed in the majority of available cloud infrastructures (Amazon Web Services®, Google Cloud® etc.). If you need more details or if you need us to communicate directly with your cloud infrastructure provider to clarify the compatibility issues, please talk to us.
Does birdy7 save our data elsewhere?
No. birdy7 runs on your infrastructure. In short, that means that you can either provide us with access to your existing in-house infrastructure, or we can rent server infrastructure for you. With this in mind, birdy7 always operates in an environment that is known to you and can be physically separated from other environments. This also ensures that the server hardware performance is 100% at your disposal.
birdy7 is not a SaaS (service as a system).
With which energy technologies is birdy7 compatible?
The strength of birdy7 is that it is theoretically compatible with all renewable energy technologies that provide an industry-standard interface. The most popular technologies are wind power and solar photovoltaics - offered as a standard by birdy7. Since birdy7 supports the most popular interfaces, it means that 90% of renewable technologies are out-of-the-box compatible. This includes OPC XML DA, OPC UA, Modbus, CSV, and SQL. Speak to us if you'd like to connect another technology type to birdy7 or if your plant uses a different protocol.
I'm operating a nuclear power plant. Can I use birdy7 to manage it? You know like clean-energy and so.
Even though our birdy7 CUBE sometimes radiates with joy, we'd rather stay far away from radioactive elements.
I'm operating a small hydroelectric power plant. Can I use birdy7 to manage it?
Absolutely. If your power-plant controller communicates via an industry-standard protocol such as Modbus or OPC, the implementation is pretty straightforward. If you have your own proprietary communication or none at all, we can work with you to implement the appropriate protocol and establish a connection to birdy7.
I have a mixed portfolio with solar PV, wind, biogas and hydropower. Can birdy7 cope with it?
That is exactly what birdy7 was designed for. As long as you have an industry-standard communications protocol in all your power plants (or one implemented by us for you), you have access to all the management tools in the birdy7 portfolio. All technologies, one platform.
What are the system requirements in order to implement birdy7?
If you want to install the birdy7 CUBE, you should provide a network interface physically-close to the SCADA system.
The system requirements of the birdy7 BI platform are dependent on the size of your power plant fleet, the number of signals you want to track, and your refresh rate. The system requirements of each installation is clarified and coordinated with the customer during the preparation- and design phase. We can also rent or purchase the infrastructure on your behalf in case you decide to not use your existing infrastructure. Everything is possible, ranging from a one-server-solution, to a high-availability multi-node cluster.
An Apple iPad is needed if you'd like to use the Tablet app. This app supports both the current and previous operating systems so you can also use older devices.